For the Visitor to Star Valley, an Overview of Fishing Opportunities
By Paul Stauffer
Star Valley is blessed with mountain streams, a few lakes, and a meandering river known as the Salt River. It is the home of the native Snake River fine-spotted cutthroat trout. At one time, brown trout, brook trout, and rainbow trout were all introduced, but the angler will discover that most of the catch will be cutthroat trout.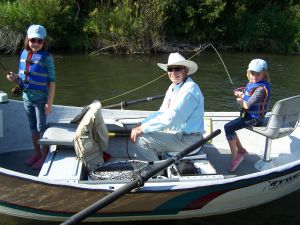 Be sure to check the regulations, because the creel limit is small. The regulations for 2019 specify that the limit for trout in the streams will be 3 trout and only 1 cutthroat over 12 inches is allowed, and only 1 trout of any species over 16 inches may be kept. The limit in lakes including reservoirs is 6 trout. There are other regulations concerning brook trout and whitefish as well as sections of stream where only flies and lures are legal, so it is highly recommended to obtain a copy of the fishing orders at any sporting goods or fly shop where licenses can be purchased.
It will not be difficult to find places to cast one's line. The valley is bounded by the Bridger-Teton National Forest on the East. The Wyoming Game and Fish has purchased public easement areas at numerous spots along the Salt River that are well signed from Highway 89, the main traffic artery through the valley. At these access areas there are maps posted to show how far from the bank of the river the easement extends, and how far up and down the stream is bounded by easement. All other private land in the valley can only be accessed with the approval of the owner, whether it is so posted or not. Please be respectful of all property, public and private and carry out what you carry in.
For starters, one might drive to Cottonwood Lake, about 6 miles east of Smoot, at the South end of the valley. The road is not paved, and is narrow in places, but the drive is extremely scenic and the lake is a beautiful jewel full of cutthroat and brook trout (about 50/50). As a general rule, most fishing methods will take trout. For fly fishermen, small wet flies near the surface when fish are rising work well, but when there is no surface action, simply go deeper with the fly. Most of the trout will be 8 to 12 inches.
For those with less time to spend, an equally scenic drive east of Afton will put you on some pretty easy fishing along the remnants of two small reservoirs on Swift Creek. From Highway 89 turn east on Second Avenue and follow it straight to the canyon. These ponds are well stocked by the Wyoming Game and Fish Department with cutthroat trout, although you may also land a wild brook trout in either pond, and possibly a brown trout in the lower reservoir. Most fishing methods will work here, but a fly fisherperson may find him/her challenged by rising trout that refuse your offering. Why these planted cutthroats get selective at times is a puzzle to figure out, but once the right fly is presented you will have a ball. See what is on the water, if you can, and try to imitate it. Often you will need to downsize to a number 16 or 18 dry fly such as a Parachute Adams. Meanwhile, if you have children along, a bobber and worm may have them out-fishing you. The upper reservoir, an attractive dam with a rock face, will likely be more crowded, so be sure to respect the space of other anglers.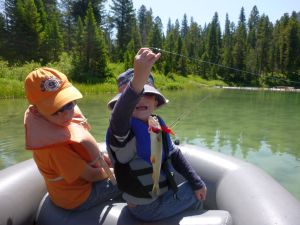 There is plenty to see in Swift Creek Canyon for the non-fishing folks in your party. The canyon is home to deer, elk, moose, bear, ospreys, otter, pine marten, and a host of other animals. If you continue to follow the road east past the upper reservoir you will reach a parking area for visitors to a cold-water feature known to locals as "The Geyser," or "The Intermittent Spring," or the "Periodic Spring." A large volume of water exits a large rock cliff and flows a short distance to Swift Creek nearly doubling its size. Usually beginning in August, the flow from the spring shuts off for perhaps 15 minutes and then starts again. This spring is one of only two or three in the world and is worth the side trip.
Continuing North to Alpine and from there up the Greys River road, you might try Murphy Lake about a half-hour trip from Alpine. It is stocked with some hatchery brood stock culls that can exceed 16 inches as well as smaller trout. Want something larger? Try Palisades Reservoir which holds trophy brown trout as well as real nice cutthroats and some kokanee salmon.
For the stream fisherperson, just drive North from Afton and watch for signs along the highway indicating directions to public access areas on Salt River. This river has something for everyone—slow, meandering channels are more common in the upper valley*1, and swift riffle water with lots of overhanging willows is the norm from the Narrows*2 to Etna. There are nice vistas wherever one goes. Fishing from drift boats and other watercraft has become very popular. Just floating for the fun of it in inner-tubes and other floatables attracts entire family reunions, particularly in the Narrows where distances are shorter between access points. If you want solitude, weekends in the Narrows may not be your suit.
Good luck!
~ Paul Stauffer
About the author: Paul Stauffer is an over 70-year resident of Star Valley, and an avid fisherman. He has authored the books: "A History of Fishing in Star Valley, Wyoming", available at Hastings and Dog Eared Books in Afton, as well as Pioneer Anglers in Alpine; and "Pharmacists and Pharmacies of Star Valley 1891-2015", available soon through the Star Valley Historical Society web site. We at SVWY are pleased to have Paul agree to write articles for us. Visit us again and look for more on the way.
You can read his other articles: "Spring Fishing", here, "Summer Fishing", here, and "Fishing the Greys River", here.
*1 Long-time residents use the terms "Upper Valley" and "Lower Valley" to describe the two halves of the valley. These terms are not geographical (North & South), rather they are used by altitude or elevation (higher and lower). In Star Valley, the highest points are in the Southern end (6400 feet+), and the lowest points are in the Northern end (5600 feet+). Therefor, the "Lower Valley" is up North, and the "Upper Valley" is down South.
*2 "The Narrows" is a place North of Afton & Grover, and South of Thayne & Bedford, where the two mountain ranges on either side of the valley come very close together.