Spring Fishing
Published: May 7, 2019
Fishing in the Spring in Star Valley
Spring Fishing—Where and How
by Paul Stauffer
As I write this, there are a few bare spots showing on my lawn, the robins are singing, and cabin fever is on its way out. The runoff from the snow melt has not appeared, but it won't be long. Because the streams can get high and muddy as spring arrives, some planning is in order to prevent your intended fishing trip from running into an unfishable situation. In Star Valley, the tributaries of Salt River flowing from the mountains to the west experience spring runoff first. This can begin as early as April, but will be most likely to affect May fishing. Salt Creek flowing west from the Salt River summit to join the Bear River, will also have an early runoff. Fish can be caught in muddy water. In fact they will stuff themselves on earthworms flushed into the streams by the high flows. Fly fishers tend to avoid muddy water, which means that bait anglers may have the streams to themselves. It is important to check the regulations before fishing a section of stream to make sure bait is allowed in that area. Spinners and large wet flies can also be effective during spring conditions. Remember, that trout are cold-blooded creatures, and that water temperatures can hover under 40 degrees in the early spring. That means that whatever is presented should usually be fished slower than during the summer when fish are more active.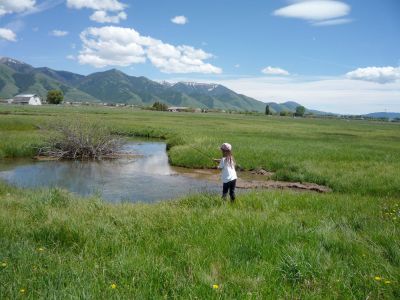 Let's suppose, though, that the runoff hasn't started yet, and you find Salt River at Clark's Barn or the Grover Bridge clear. There are still patches of snow on the ground, and you notice some small insects resembling mosquitoes crawling across the white stuff. These are either midges or tiny black stoneflies, and they came out of the stream. You may even notice some fish rising in the quiet pools. This is a great time for fly fishers. Most of the fish you see rising will be taking the midges in the surface film of the water. An effective method to fish for them is to tie on a small dark wet fly or nymph. The naturals will be sizes 18 or smaller, but believe it or not, the fish will actually take a size 12 nymph hung in the current. If there are whitefish in the stream you are fishing (Salt River for sure), you may catch some of these as well as trout. Whitefish are highly under-rated as gamefish, and are good eating.
If you have access to a pond or a lake, it is very likely you will find fish feeding on midges. Some of the best would be Cottonwood Lake or Murphy Lake, or the small reservoirs (Swift Creek and Strawberry Creek), but the road may be closed from snowslides until the first week of June.
Cutthroat trout, for which our area is famous, spawn in the spring. There will be spawning runs on some tributaries as well as a migration up the Snake River and Salt River from Palisades Reservoir. This will usually be in May and early June on these two rivers, and can produce some fast fishing even when the streams are muddy. Suckers and chubs will also be on their spring spawning runs. Typically, fishing is done in or close to the backwaters of the reservoir with a bobber and worm. If the bobber is placed fairly close to the worm, you will catch more trout. The farther from the bobber you place the bait (in other words, the deeper you fish) the more likely you will be to catch suckers and chubs. One of the best-tasting treats I ever had occurred when a patron at my pharmacy brought in some bottled fish, and it was sucker meat. He said all you had to do was be there when anglers were tossing suckers on the bank to die, and pick up the ones that were still flopping around to insure freshness. Then you take them home, fillet them and bottle them.
Depending on the snowpack, the west side streams will be dropping by June, at which time they will become very fishable. Crow Creek,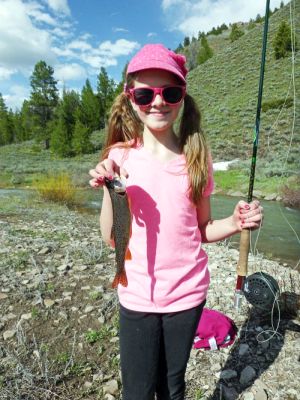 Spring Creek, Stump Creek, Tin Cup and Jack Knife Creeks are all good bets. Unfortunately, on the Wyoming side, most areas are on private ground and permission must be obtained, whether or not the property is posted. Farther West, these streams are in Idaho, and the upper reaches are on the Caribou National Forest. Check at the local tackle shops to quickly find out which streams are in good shape.
Because the tributaries on the east side of Star Valley (Cottonwood Creek, Dry Creek, Swift Creek, Willow Creek, and Strawberry Creek) come from much higher altitudes, the runoff in these streams may not get going until the first or second week in June. When the west side tributaries are blown out, the east side streams are usually fishable. As mentioned, there are small lakes and reservoirs on these creeks which can host larger fish.
A much anticipated event for many Star Valley anglers is the ice-out on Jackson Lake. This can occur around the middle of May if the weather warms as it should. While most Jackson Lake fans will be trolling or jigging from boats, excellent fishing can be had from the shore by casting Krocodile lures, daredevils, and other lures. There are even die-hards who cast streamers at the end of fast sinking lines with their fly rods. Jackson Lake is home to mackinaw trout, which are great table fare. Cutthroats and brown trout also inhabit the lake. Most anglers fishing Jackson Lake want to arrive as early as they can in the morning.
So, don't wait for summer if you want to enjoy some fine fishing!
~ Paul Stauffer
About the author: Paul Stauffer is an over 70-year resident of Star Valley, and an avid fisherman. He has authored the books: "A History of Fishing in Star Valley, Wyoming", available at Hastings and Dog Eared Books in Afton, as well as Pioneer Anglers in Alpine; and "Pharmacists and Pharmacies of Star Valley 1891-2015", available soon through the Star Valley Historical Society web site. We at SVWY are pleased to have Paul agree to write articles for us. Visit us again and look for more on the way.
You can read his article "Fishing in Star Valley, An Overview", here, and "Fishing the Greys River", here.